Press Master announces the addition of its new handheld, wireless remote, available for the Gantry Straightening Press, Straightening Press and other models.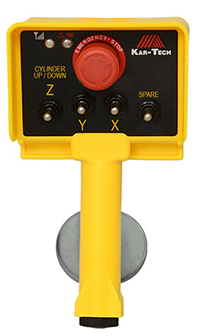 A New Layer of Safety

Press Master worries about the safety of workers operating its presses and is always seeking innovative approaches. With the new wireless remote, operators can stand several feet back to operate the press, adding a layer of safety and protection.

There are no worries about losing accuracy and precision by using the remote. Its advanced technology makes it accurate and exact even at a distance. The unit also has an active safety checking feature that is operating the entire time it is in use.

Power You Can Count On

With its built-in intelligent power management capability, the remote can operate using a rechargeable battery pack or AA batteries, which provide days of reliable power. And if they aren't available, the backup tether cord will keep the unit running, in models that are configured for it.

You will never be caught by surprise by low power because the low battery indicator provides ample warning.

Quality Construction

The wireless remote has a comfortably long pistol grip, making is simple to hold and control. The proportional trigger is has a long throw and is contactless, so the housing stays sealed.

Two-Way Communication

The remote is made for precision. The speed control is exact. You get constant updates with real-time feedback. It can tell you at a glance if you have a good radio link and if other issues are affecting operation.

Find out more by contacting Press Master. If you have questions, we will get back to you quickly. If you'd like to arrange a demonstration, just let us know.